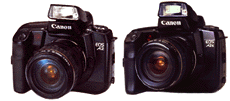 Services
Mid-State Camera Service offers wide range of professional camera services:
Professional Camera repair backed up by our 6 months warranty. Mid-State Camera Service has the training and the test equipment, supplied directly from the camera manufacturer, required to service today's sophisticated computerized photo equipment, as well as the experience necessary to handle the modern and classic cameras.

We strive to get your equipment back to you when you need it! Normal turn around time for professional photographers is Five Working Days. We do however accommodate 48 Hour or Same Day service, if required, as our schedule and parts availability permits.

Here at Mid-State Camera Service we don't hide behind a "Same Defect" guarantee! If we do a full repair, we guarantee "All Functions" of the equipment. Our guarantee can only be voided due to abuse, negligence or accident! Professional equipment is covered for nine months.

Adjustments

Adjustment services for Hasselblad, Bronika, Mamiya, Rolliflex, Leica, Canon, Nikon, Pentax, Minolta and Olympus photographic equipment include lubrication of all mechanical points, shutter speeds, exposure, focus

Cleaning and Recalibrations

Cleaning and Recalibration Services.
Send mail to webmaster@camera-repair.com with questions or comments about this web site.
Copyright 1996-2021
Last modified: October 12, 2021